Looking for a Dynamic Speaker For Your Next Event?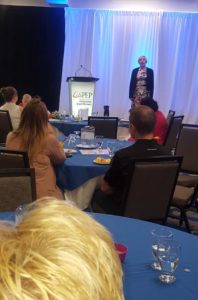 Our team is able to take the exact strategies we use to help our clients to succeed in building a profitable business and bring them to your audience.
We understand how important business skills are in building a profitable wellness center, yet we also know that many practitioners are not taught these skills in school. That's why we are on a mission to share this knowledge with as many practitioners as possible.
We also know that many practitioners want nothing more than to help more (and more ... and more) people! They've seen the results they have been able to achieve for their clients and want to provide these results to as many clients as possible.
Being armed with this knowledge we know the information we bring to your audience will help you to make your next event (webinar, podcast, conference, seminar, training session, etc.) a success.
Yvonne Weld is a member of CAPS (Canadian Association of Professional Speakers) and knows what it takes to not only educate but also entertain your audience. She will keep your audience engaged as she shares the information they need to move forward in their business.
Scroll down to learn more about our most requested topics OR to check our availability or learn more about having us speak at your next event, fill out the contact form below:
Choose From Our Most Popular Presentations
The following are our most popular presentations, however, we can also create a customized talk for your event.
Creating a WOW Experience Your Customers Won't Soon Forget
Did you know 68% of customers do not return because of a bad customer experience? 
Further, a shocking 89% of consumers have switched to doing business with a competitor following a poor customer experience.
These statistics should not surprise you ... just think of the times you have had a bad experience; did it make you think twice about returning?
One sure-fire way to avoid these statistics is to create an experience that will WOW your clients!
Creates a Whole experience
You are the One and only who offers it
The experience is

W

orthy of repeating
This session with share with you simple tips for implementing each of these strategies into your business so you can begin to stand out and WOW your customers!

3 Keys to Building a Highly Profitable Wellness Center
Get ready to discover the exact strategies that help Practitioners to build the profitable wellness center they have always dreamt about!
We understand most Practitioners want to help more people achieve the results they know they can deliver ... but there are only so many hours in a day and often they are faced with a long waiting list that stops them from achieving this goal.
At the end of this talk, your audience will not only understand exactly what they need to do to finally achieve this goal, they will also walk away with:
An easy-to-follow, rinse and repeat marketing strategy that has propelled practitioners to bring in a consistent flow of clients whenever they want them (and the EXACT clients they want to work with) so they can help more and more (and more ...) people!
Confidence in their ability to run a successful wellness center with the mindset and strategy needed so they can understand the exact components EVERY wellness center needs to both thrive and prosper; and
A foolproof strategy to become THE hotspot wellness center that complementary practitioners are lining up to join so they can stop sacrificing additional time and energy hiring the wrong people.
Practitioner or Business Owner - You Decide!
"Are you a practitioner or a business owner?"
It was this exact question that Yvonne was asked by her mentor several years ago that made her stop and change the way she ran her business. Now she is sharing those changes with you so you too can have the exact business you have been dreaming about!
In this talk, she will share with you:
Why your current practitioner mindset may be holding you back and what the exact differences between a practitioner and business owner mindset are,
The exact steps to take to transition from practitioner to business owner regardless of whether you want to stay solo or build a thriving wellness center; and
How to ensure you never lose all that being a practitioner means to you, your clients and your business (the personal attention, clients who love you, YOUR way of providing your services ... the list goes on).
7 Mistakes Most New Entrepreneurs Make and How to Avoid Them
In school, they taught you everything you needed to know about being a great Practitioner! Except in most cases, what you learned about running a business was basic.
Let's face it, in your industry you are most likely to be an entrepreneur whether you start your own business or join a team as a contractor.
At BEST we have helped so many Practitioners who tell us the same things again and again ... if only I knew this when I first graduated from school. Well today, that can change.
In this talk, we share the 7 mistakes most entrepreneurs make based on real-world examples we have heard (and seen firsthand) from Practitioners just like you!
More importantly, we are going to share the strategies you need to know to ensure you too don't make these mistakes (some of which can be very costly)!
You will leave this talk with the confidence you need to be a success in business no matter how big of a business you want to build!